Isekai Anthology
A downloadable game for Windows
Welcome to Volume 1 of the Isekai Anthology!
"Seriously, there is a Catgirl Maid Cafe in the Forest!"
One NEET meets one BUS, and you already know the rest! It happens over and over, but this time the poor hero, Hirito, inherited a Maid Cafe of Catgirls! What could possibly go wrong? Scratch that, what couldn't go wrong?
Deep in the Waldorf Forest, there is a Catgirl Maid Cafe, no really there is. The Kami himself sent forth a new manager to help the cat-girls save the cafe, Nyaah? Please!, from a policy of tax foreclosure. Join Hirito as he rediscovers lost Maid Cafe recipes, harvests for ingredients, and, most importantly, finds lost cat-maids! Not to mention rumors of a demon world just on the other side of some portal. Is the Cat Maid Cafe really just a cafe, or is it something more?
BETA Notice! Due to time constraints, holidays, and the flu this game is missing a certain amount of polish. Be prepared for a few bugs, and missing bits and bobs!
Missing in Credits: (Will update after jam)
REFMap (Character Sprites)
BIUD436 (awesome screenshot plugin)
SV Slime - Yanfly
Other SideView Battlers - Bibo's RTP Battlers
ScottyTV - Windowskins
Features:
- Standard RPG Gameplay, turn based combat, plenty of dialogue, etc.
- Harvesting
- Crafting (well cooking…)
- A print style selection of cut-scenes
- Characters created with MangaMaker ComiPo
- Itch.io app integration (i.e., built with butler)
The Cast:
Hirito - A "Neet" brought from another world.
Tax Collector - A gentleman that doesn't want to foreclose at all.
Ren -The Number One Catmaid. (Self proclaimed)
Natsumi - Well, she has… Needs?
Tomomo - The singing cat-girl.
Minako - The pink haired cat-girl.
And more…
Omake!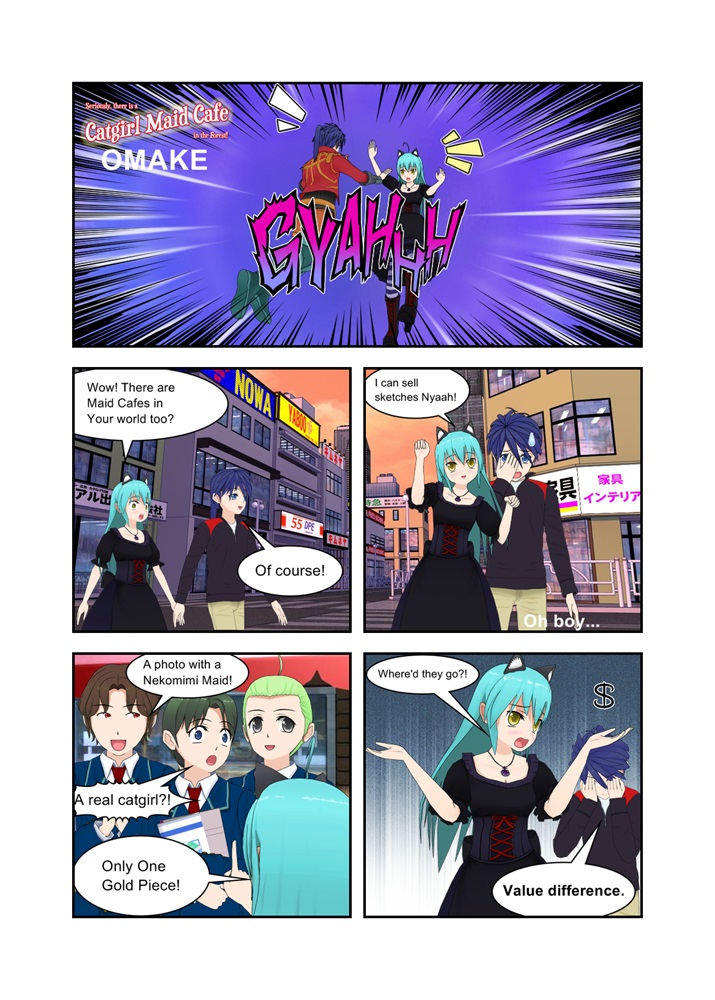 This is an entry for the IGMC 2018.
Mangamaker ComiPo! was used both for creation of the Omake and other art assets associated with and IN the game.
Download
Click download now to get access to the following files:
isekai-anthology-windows.zip
347 MB
Seriously Extras.zip
10 MB