Isekai Anthology
Working on an update - Nyaa!
---
It's been a little while for the Catmaid Cafe, "Nyaa Please!" However, due to upgrading the game engine, it's to be expected. Cats-X-Zombies was already updated to use the newer engine version, but Isekai Anthology (Seriously... Catmaids...) was utilizing some third party plug-ins that aren't compatible with the newer revision of the game engine. This meant that several "scenes," even the small ones, needed to be re-written. In the meantime, there are some new "preview" zones that are being worked into the next update that I hope will eventually improve the game as a whole.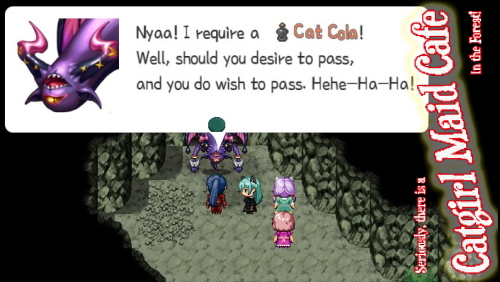 The update should be available within a couple of weeks, and will contain some adjusted text, new zones, new recipes, and a new camera system (yay for Galv's plugins!). Sadly, I've not had the time to re-balance combat or to expand the monsters yet (boo for IRL interruptions!)
TL;DR I hope to have something new up before the end of the month, NYAA!