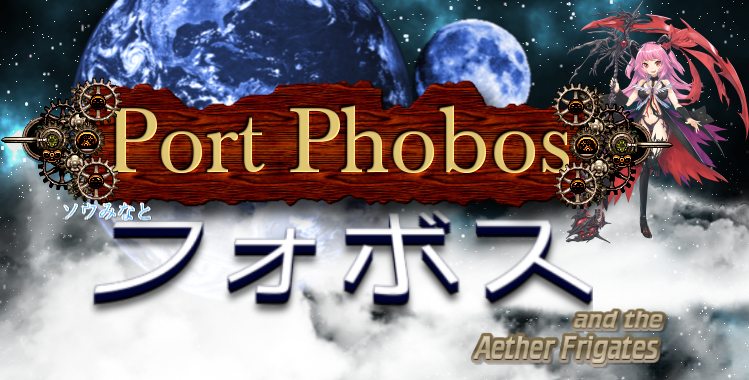 Port Phobos
A downloadable game for Windows
Priscilla HATES her JOB!
Phobos Boss Phyte Demo: v1.1 (Missing Status Resource Replaced)
Phobos Windows Demo v1.0 (Full Demo Released 4/21/2019)
Well, she loves being an Aetherist, but hates having to operate as a Spacer Association field agent. Chasing down the dregs of society, loitering in the shadier side of town, and doing so without causing a scene. She's an Aetherist, all of her "spells" are flashy!
If that wasn't enough, her grandfather informed her that she's got an arranged marriage coming up with another spacer agent no less! It's 1878, and her late parents couldn't have known about the Spacer Association. If they did, there is no way they could have approved of it. Then, as if to add insult to injury, the Spacer Association lost track of his whereabouts! All of this, and they called her into work on a Sunday to boot!
Port Phobos and the Aether Frigates takes place in an alternate history, one built out of the classic science fiction of the late 19'th century. A place that's an odd cross-breed of a Victorian society, Steam-Punk technology, and just a dash of the old west. Gunslingers, Aether-tech-mages, and Space Pirates collide in an adventure spanning the inner planets of the Solar System.
Venus: The jungle world, our celestial neighbor, looks like some kind of rain forest, but is that really all there is?
Neith: A moon of Venus, Neith is a world that was quickly settled by humanity during the first space war, and the home of steam-tech.
Mars: The infamous red-planet. With it's red grasslands and cat-people aliens; there is no wonder that it was the first place the Spacer Association placed an outpost.
Phobos: If Priscilla was asked, she'd say "This place is just weird." A small moon with purple grass, flying pigs, and some kind of alien plant-life - this place is probably not terribly friendly to outsiders. Wait... Why is there a human settlement here?!!?
Again, I would like to remind everyone that Drifty from Driftwood Gaming needs your support due to cancer. Please give his GoFundMe Page a visit to learn more.
Download
Click download now to get access to the following files:
port-phobos-windows-demo.zip
454 MB
Phobos Boss Demo PBP_1.zip
317 MB